Introduction
If you operate a restaurant that is losing daily orders due to busy phone lines, or competitors on aggregator platforms driving down your online sales, maybe it is time to shift your reliance from existing resources.
You can even own a private online ordering website for your restaurant, but if it is an expensive deal now, it is better to keep your eye on an online ordering system for restaurants.
These systems are a new face of the online food delivery market. These systems streamline the order-taking process for restaurants with added convenience. And the best thing is, starting out is easier. 
You simply create an account on any of the two, Menufy or Slice. But before that, it is important to understand the business model of each. Both platforms make online food delivery easy for restaurants. Still, the services offered by Menufy and Slice vary.
The targeted food market is also differently catered to by each of them. In case you were planning to get started with any of these, don't forget to go through this detailed review on Menufy vs. Slice.
Menufy Vs Slice: Business Overview 
Menufy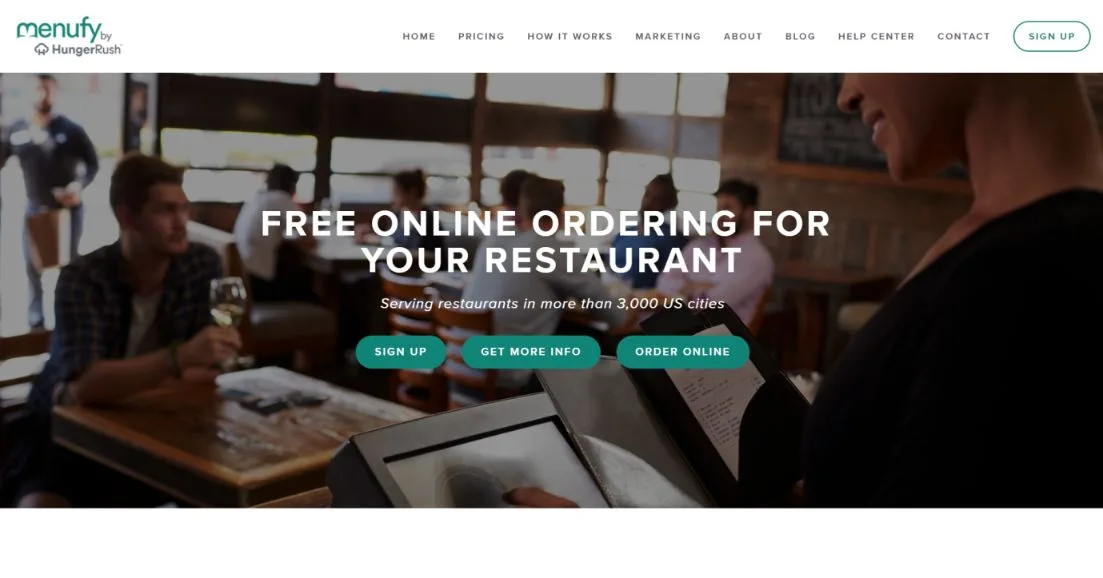 Menufy is a versatile solution for every restaurant that has ambitions to scale online. The platform was founded in 2009 with the goal of providing restaurants with an easy way to start an online business.
Whether your restaurant specializes in deserts, snacks, or mains, Menufy's online ordering system adapts to the needs of all.
In this digital age, customers are accustomed to convenience, which has led to a steep rise in the usage of food delivery apps and websites. But since getting an app or a website is an expensive deal, not all restaurants feel confident about the adoption of online food deliveries.
However, it was costly until online food delivery platforms like Menufy brought a convenient and affordable alternative to getting a website.
You heard right! Not just Menufy helps you in getting a well-built online ordering solution, but you can even get a custom-built website from scratch. Marketing and promotional support are provided further.
In the real business world, you will be attracting customers and creating business sales online. All you need to do is reach out to Menufy, get a website, update your menu, description, and pricing, and manage your orders using the Menufy manager system.
Slice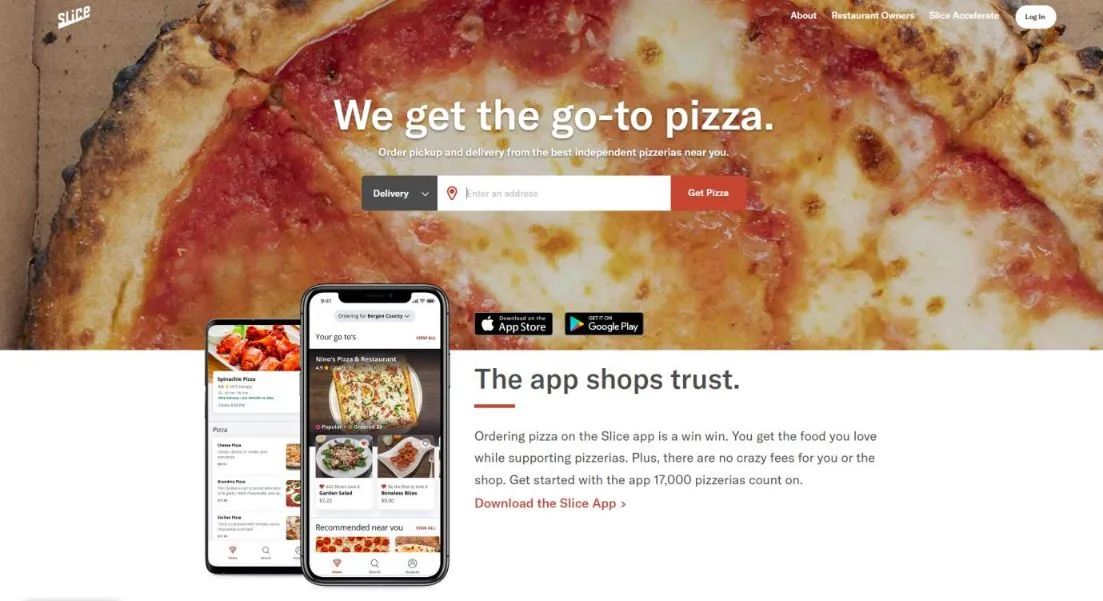 Unlike Menufy, SliceLife's online ordering system is basically a pizza ordering system. The platform streamlines order-taking and pickup-related facilities for restaurants specializing in pizza cuisine.
So, if you are a local pizzeria in any big city in America struggling to provide fast and convenient food delivery services to customers, you will love using SliceLife.
Many pizza sellers in the US today are opting for SliceLife to boost their business sales. By offering guests a personalized shopping experience with the convenience of placing orders online, SliceLife makes online operations effective and efficient for pizzerias.
So practically, starting out with SliceLife could be a smart move for every pizzeria willing to grow their business online. Particularly because, unlike other ordering applications, the platform studies its pizza customers much better than others.
Therefore, if you own a pizza restaurant, SliceLife might help you capture more sales into the business. The brand utilizes special marketing tools and promotional stuff that you will come across in this review.
Menufy vs Slice: Solutions to Restaurants
Menufy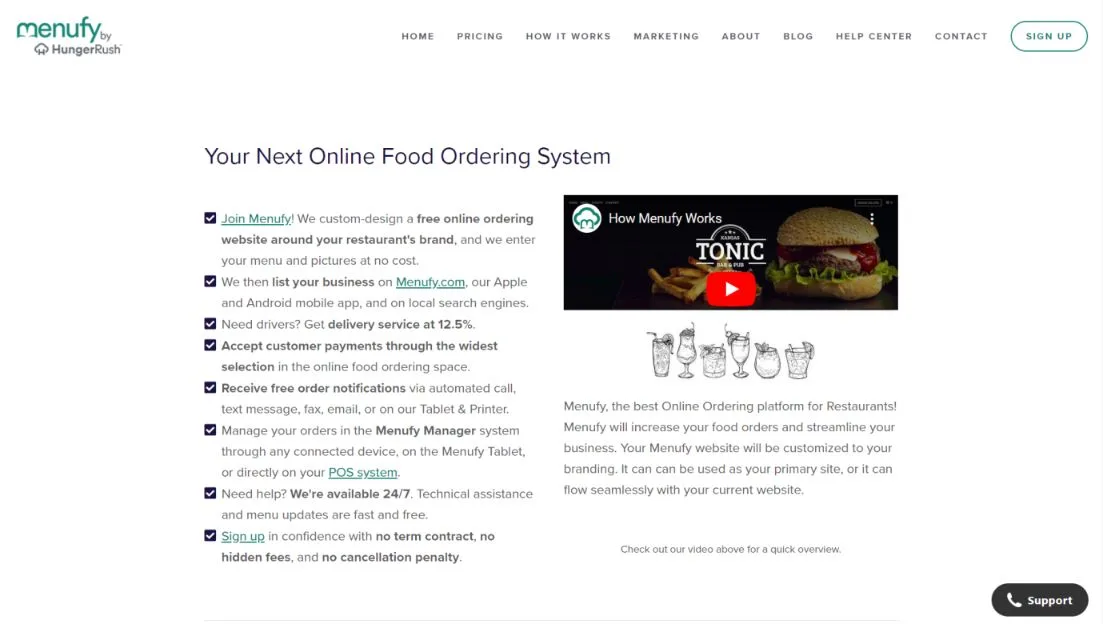 Below is a breakdown of the major solutions provided by Menufy to customers. So, without further ado, take a look at-
Online-order website
One of the well-liked solutions offered by Menufy to customers is its online ordering website. Menufy offers a dedicated website where pizzerias can update their menu, provide pricing information, and describe their products all in one place. Unlike aggregator platforms, you will have your own digital profile, which gives a personalized marketing advantage to every brand that uses Menufy.
Mobile application
Besides their website, restaurants are also given the option to showcase their business profiles on mobile platforms. The branded mobile app for restaurants operates as a marketplace, which provides restaurants exposure to a larger audience and more customers.
Accept Customer Payments
Restaurants can readily accept payments online. Menufy offers a fully responsive checkout option. Customers can use any reliable or their favorite payment mode to make payments for the orders. The company partners with numerous payment partners. So, stay assured about order placement; it will be a breeze for customers.
Free order notification
While placing an order, one of the biggest things that have a high influence on customers is the professional working standard of a brand. And the principle has been well followed and implemented by Menufy on its online ordering platform. To facilitate smooth and error-free order placement, the confirmation of orders is received by the restaurant via automated SMS, email, and fax, right on the Menufy printer and tablet.
Menufy Manager system
For order management, Menufy makes a dedicated manager system accessible to restaurants. However, restaurant operators even have the option to use a Menufy-dedicated tablet or their own POS system.
Marketing Solution
Restaurants are even supported through dynamic marketing solutions, which is another plus of using Menufy.
Slice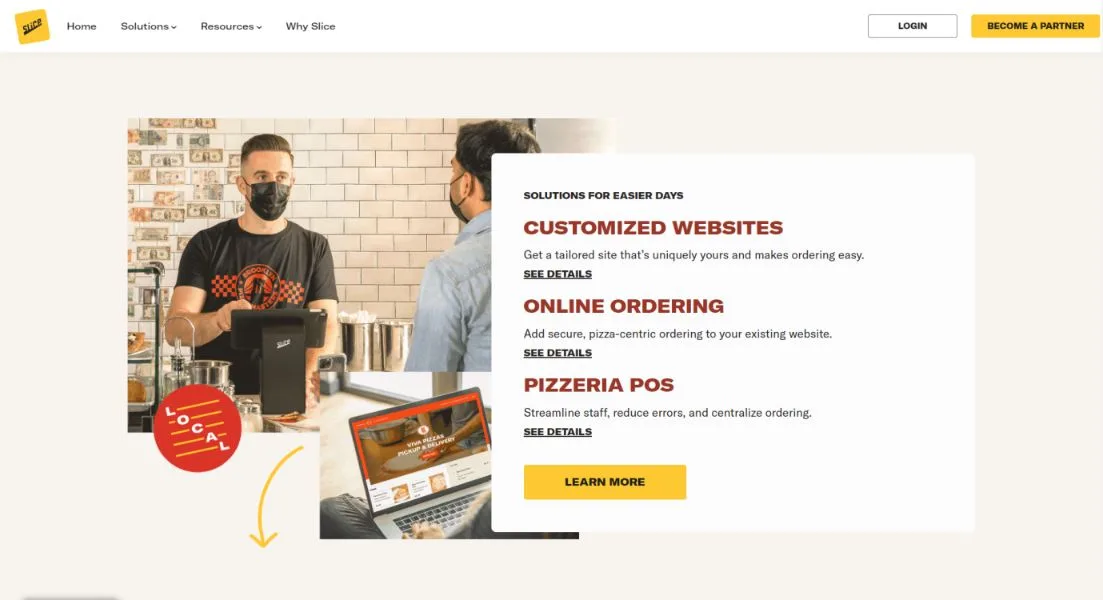 Let's take a look at the online food ordering solutions served by SliceLife to restaurants:
Customized Website
Each of SliceLife's partners has access to a customized website on which they can establish themselves and attract more sales to their business. Restaurants will have the flexibility to create menus and adjust things as per their own unique requirements.
Online Ordering System
Apart from customized websites, well-structured online ordering systems are also available in the assistance of restaurants. The pre-established business framework facilitates a smooth start of food delivery for pizzerias. So if you are just getting started, you will appreciate the helpfulness of this system.
Pizzeria POS
SliceLife aids restaurants with pizzeria's special POS systems so that only business-specific interactions happen between managers and machines during working hours. Restaurants are even given the option to use SliceLife POS by paying extra from their pockets.
Marketing Services
Restaurant marketing services are also covered in the solution list for SliceLife. To give an example, many interactive activities happen between customers and restaurants when they are on the SliceLife-built website or using online ordering solutions.
Brand Management
Brand management is a special tool, or you can say it is a complete suite of solutions utilized by SliceLife to preserve the branding of a restaurant. Under this category, many promotional stuff and customer data come into play. 
Pizzeria Marketplace
Like Menufy, SliceLife offers restaurants a dedicated marketplace where they can register themselves and benefit from the shared market of restaurants. As per this solution, you will simply list your restaurant on the SliceLife mobile app, and you will be part of Pizzeria's Marketplace.
Discounted Supplies
To attract more customers and retain existing customers in the business till its lifetime, discounted supplies are also offered. Each restaurant partnering with SliceLife has access to these supplies.
Payment Processing
SliceLife has paid special attention to payment processing. This needs to be clarified: the SliceLife ordering platform features a fully secured and reliable payment gateway. As a result, payments are processed faster. Customers will be paying for their orders using the SliceLife platform.
Receipt Printers
The platform even adds professionalism to the restaurant's working standard with a vision to adapt them to the modern work culture. Therefore, you will have the option to purchase special receipt printers, POS systems, and many other technical tools to help throughout the business cycle.
Menufy vs Slice: Getting Started 
Menufy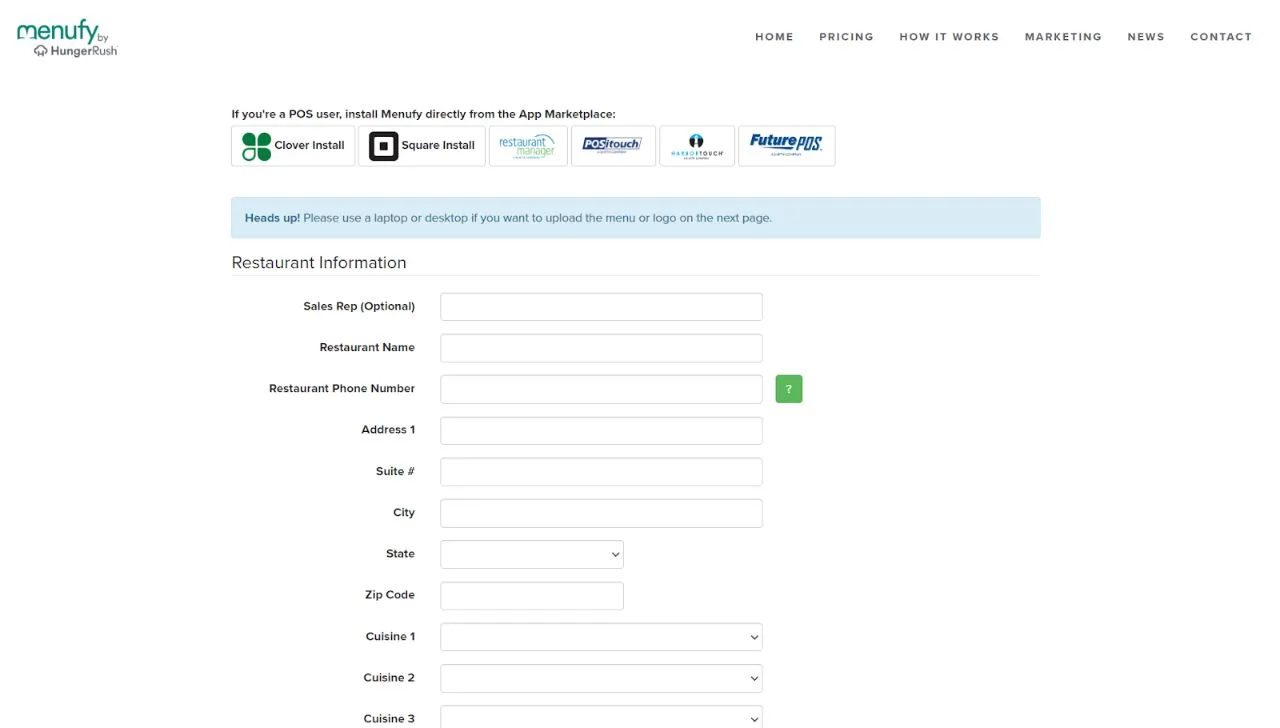 Menufy wants its restaurant partners to provide them with all the necessary information from the start. That is why, as you express your desire to join Menufy and approach the "join us" portal, you will see some visuals similar to those shown above.
Each user is required to fill out this complete form and respond to every single query carefully. This covers the restaurant's first name and the restaurant's address. City, state, zip code, and contact details need to be provided.
Cuisines should be clearly defined in the Menufy because these cuisines will be the showcase of your digital brand profile. Moving on, you will be given the option, "How do you want to receive order notifications?" Choose carefully; charges might apply for certain options.
Before you end up filling out the form, it's worth noting the terms of "Order Payments." To summarise it in simple words, basically, Menufy charges $1.50 per order in convenience fees. As a restaurant operator, you have the option to either bear the expense or pass it on to customers.
Loyalty offers and marketing details are also shared on this page. So make sure you have them reviewed carefully.
Slice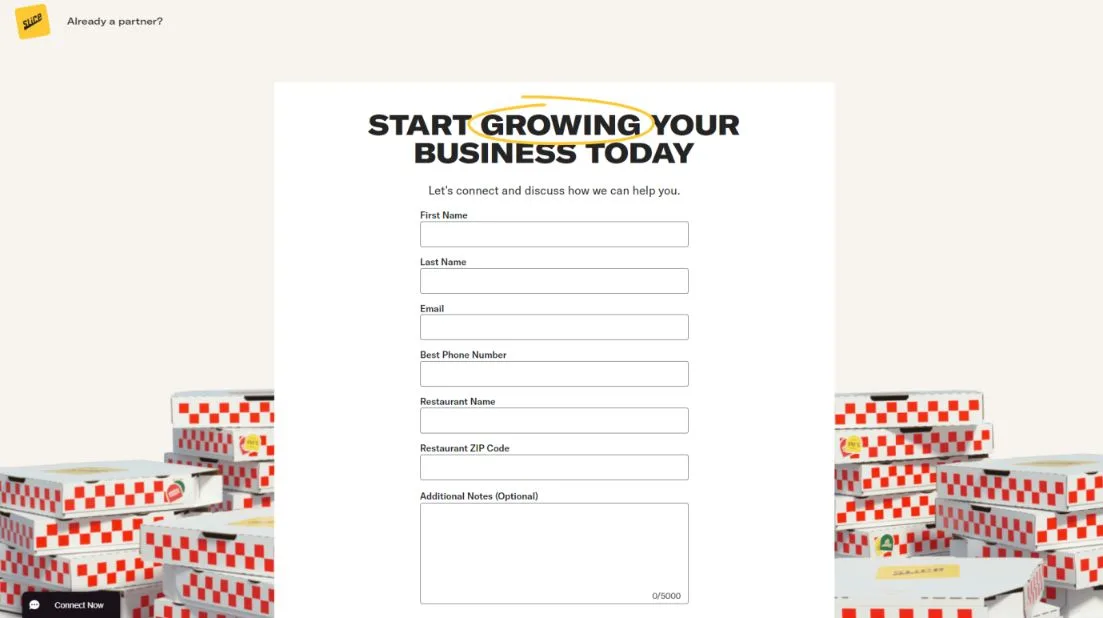 On the other hand, Slice doesn't ask you for extensive information to fill in the joining form. Simply make the first name, last name, contact details, restaurant name, and zip code available. Any additional notes can also be shared by the restaurant partner with Slice. Upon signing up and creating your SliceLife account, you will be sent to other pages of the SliceLife website, where all necessary adjustments concerning your restaurant business will be made.
Menufy vs Slice: Operation Handling 
Menufy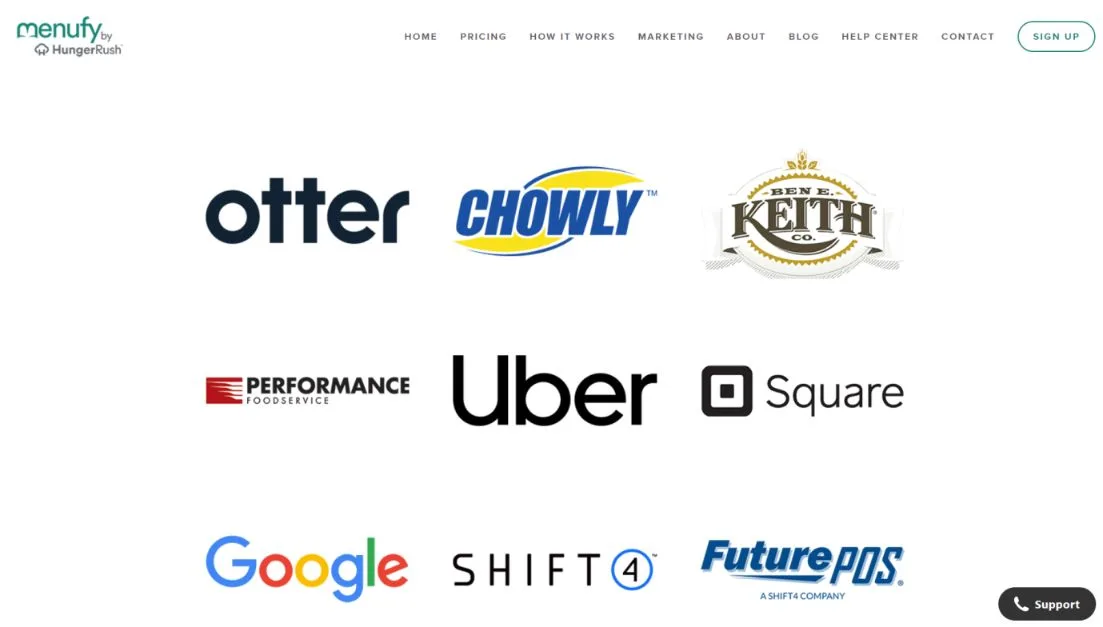 Menufy's partnership with an industry-leading POS system helps you maintain accurate business reports and keep your firm's flawless culture alive. You may be left behind in a world of calculators if you are still relying on traditional accounting methods.
In this modern age, point-of-sale systems are playing a big role in smooth business operations. Using these systems, inventory management turns out to be effortless. As a result, determining how much you have, how much you need, and how much you moved is a simple task.
Similarly, integrated reward programs can also be effectively handled through these systems, which are part of modern business culture. If you don't already have an integrated POS system for restaurants, you can purchase one from Menufy. 
Slice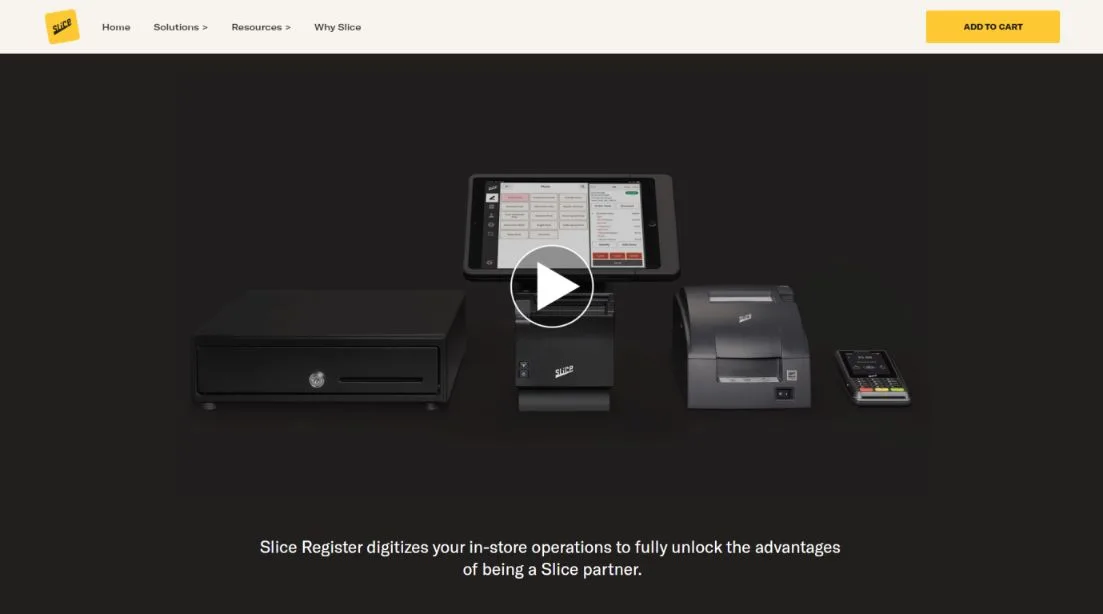 On the other hand, Slice is offering a one-stop solution to customers by bringing major machines that are necessary for every restaurant's online growth.
Using Slice's recommended POS system, pizzerias can centralize their orders. A restaurant operator can take orders in person, over the phone, or directly online.
Not only will you be managing business sales, but you can even streamline staff timing with the tech-enabled solutions that Slice provides to every pizzeria. Digital tickets add further convenience for restaurants and staff as real-time order placement turns out to be faster and more convenient for everyone.
Customers will simply swipe their cards to make payments, which is quite common across dine-in restaurants nowadays. In other words, rather than one, you receive a complete system from Slice.
To better illustrate these systems, you will obtain a card terminal, cash drawer, kitchen printer, Slice register, and receipt printer. By combining all five of these elements, you make your pizza restaurant more advanced.
Menufy vs Slice: Marketing Solutions for Restaurants 
Menufy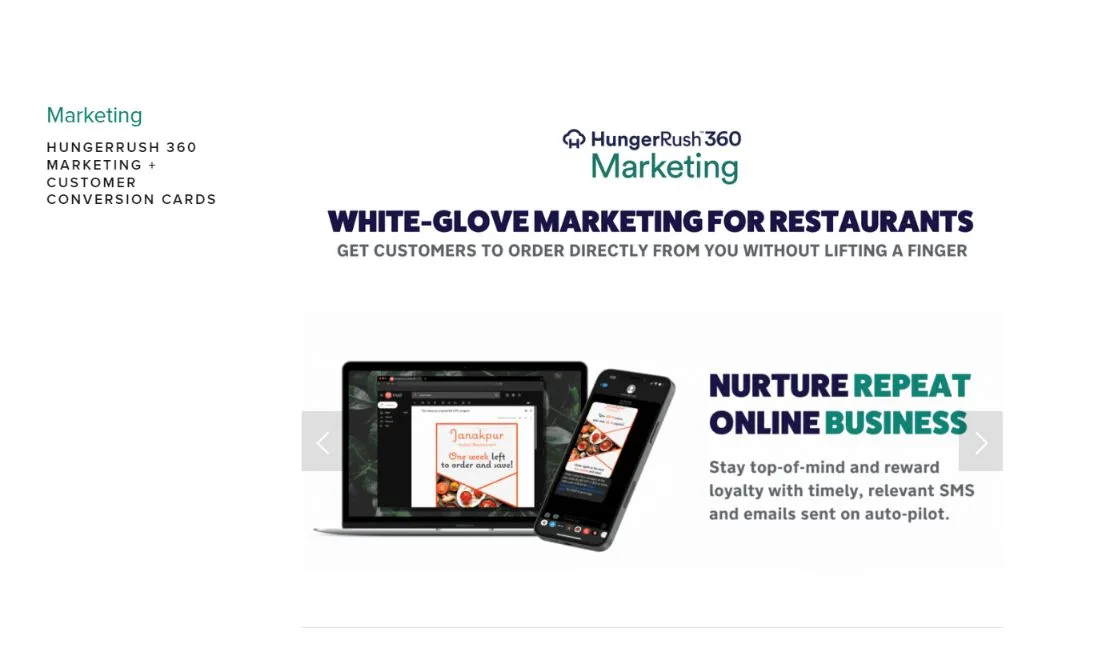 Customer Conversion Cards
Customer conversion cards provide restaurants with an opportunity to understand their customers. Leveraging current website traffic, they help make the user experience more functional, which further increases brand reputation. With this particular thing in mind, Menufy provides customer conversion cards to customers. 
The fundamentals of this unique business trick are quite straightforward. You will simply design a postcard, which will be placed in the bags of third-party orders. Subsequently, it will start attracting orders from third-party platforms to your platform. Not only will these cards assist you in tracking converted customers, but you will also be able to determine how many times a customer has reordered a product.
Automated text and email marketing
Automated text and email marketing is the next big thing, which will probably entice you toward Menufy. As a business person, you already know how daunting sending a message or email to customers can be. You can't stay active on screen all the time, but you can't resist the fact that these text messages and email marketing are part of modern businesses' work culture. But through automation, the task can surely be transformed into something that's effortless and rarely takes your precious time. 
Just as Menufy's automated text and email marketing does. With this special add-on, all activities, whether order confirmation or marketing, are completed in record time. 
Slice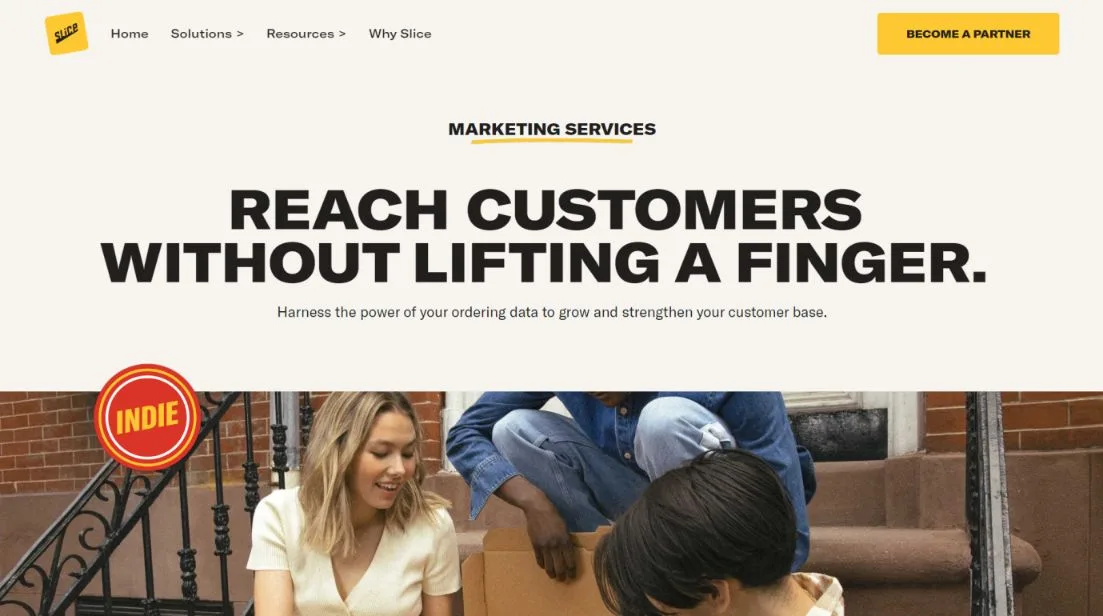 Digital advertising
Slice helps businesses scale with digital advertising. As we all know, social media platforms and most internet giants like Google have been hubs for billions of users around the world. Facebook and Instagram, through their unique campaigns, can help you attract local customers directly to your restaurant online. With all these in mind, Slice offers digital advertising at $500 for a full campaign, which provides you with the opportunity to make online ads more personalized.
Direct Email
As a customer, direct emails are something that keeps all of us in touch with our favorite brand or shopping destination. The concept of marketing is even successful across restaurants. As a customer places an order, a confirmation is sent directly to their email address. Similarly, as the order is delivered to the customer's doorstep, a second email is sent to their mailing address. In the future, restaurants can even remarket their products if they ever lose touch. Altogether, a professional branding environment is built through direct email.
Menu Cards
Menu cards are something that binds all of us to our favorite restaurants. That's why the thing exists in the list of marketing solutions by Menufy. These customized cards make it easy for customers to order directly from your latest menus. Especially if you have a special offer attached, these cards will work even better than your expectations. It has also been seen that these cards are attracting more sales than on regular days.
Promotional Flyers
While shopping from a local store, you probably have had an encounter with promotional flyers. These promotional layers on any random package or parcel are basically a marketing strategy that keeps all of us entertained or eventually drawn towards a brand or a specific product. However, unlike other marketing solutions, you don't access this facility separately. The marketing solution is available with the performance bundle.
Advanced Marketing Services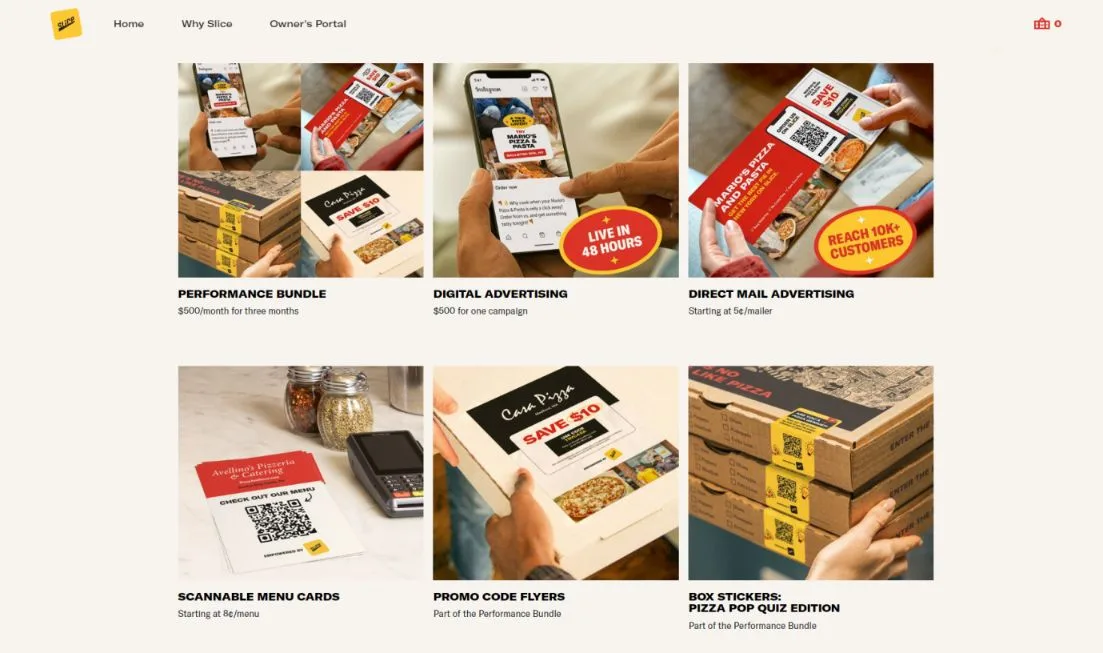 As you can see in the visuals above, all these advanced marketing solutions are covered by the brand's "performance bundle." The rate for each of the physical marketing services has been specified. Pizzerias have the option to bring a specific marketing solution into action, but in case they are immensely influenced by SliceLife's physical marketing model, they can purchase a "performance bundle" and pay $500 on a subscription basis for three months.
Menufy Vs Slice: Overall Pricing 
Menufy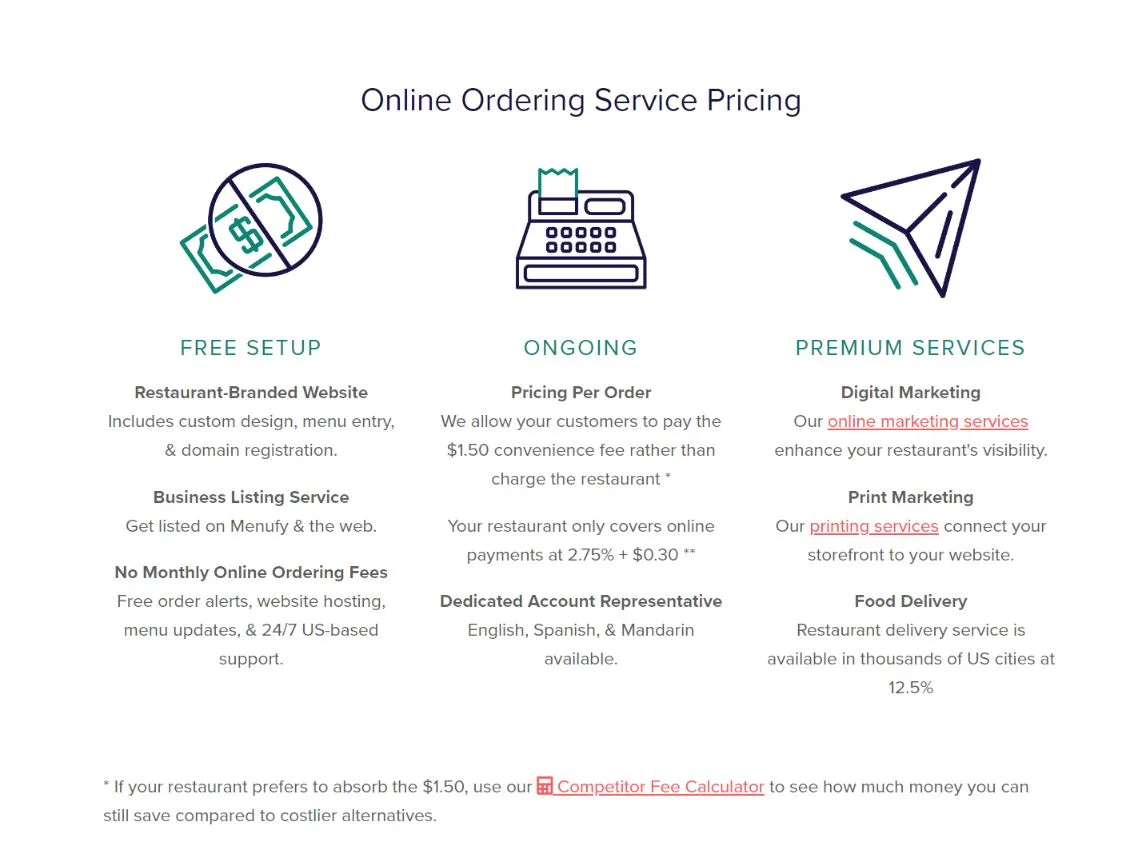 Let's come straight to the most vital topic, the price. Menufy impresses restaurants in this regard because the platform charges nothing for a restaurant-branded website; it is free to set up.
As you can see in the visual above, with this website, you will have access to free order alerts, website hosting, menu updates, and 24×7 support. But there's a catch. Your portfolio will keep flashing online at no cost, but all incoming orders will be subject to some charges.
Simply put, the platform follows the pricing-per-order business model. $1.5 convenience charges come into play on every single order placed. However, restaurants are given the option to decide whether they are interested in paying it themselves or passing these charges to customers so that they pay for it while paying for their orders.
Apart from these services, digital marketing, printing services, and food delivery services are also subject to some charges. So, make sure you have these few things noted as priorities.
Slice
Earlier, the pizzeria's special online ordering system, Slice, was open about its pricing. But currently, the platform has limited its offers. So, you can connect with SliceLife and get quotes on the pricing for various services they provide. However, the pricing of marketing services is well-defined by the online food ordering solution provider.
Still, pricing for most services, like getting a website and connecting it through an online ordering system, is unclear. If you are interested in Slice's services, it would be better to ask the platform directly about the pricing.
Menufy vs Slice: Mobile Application 
Menufy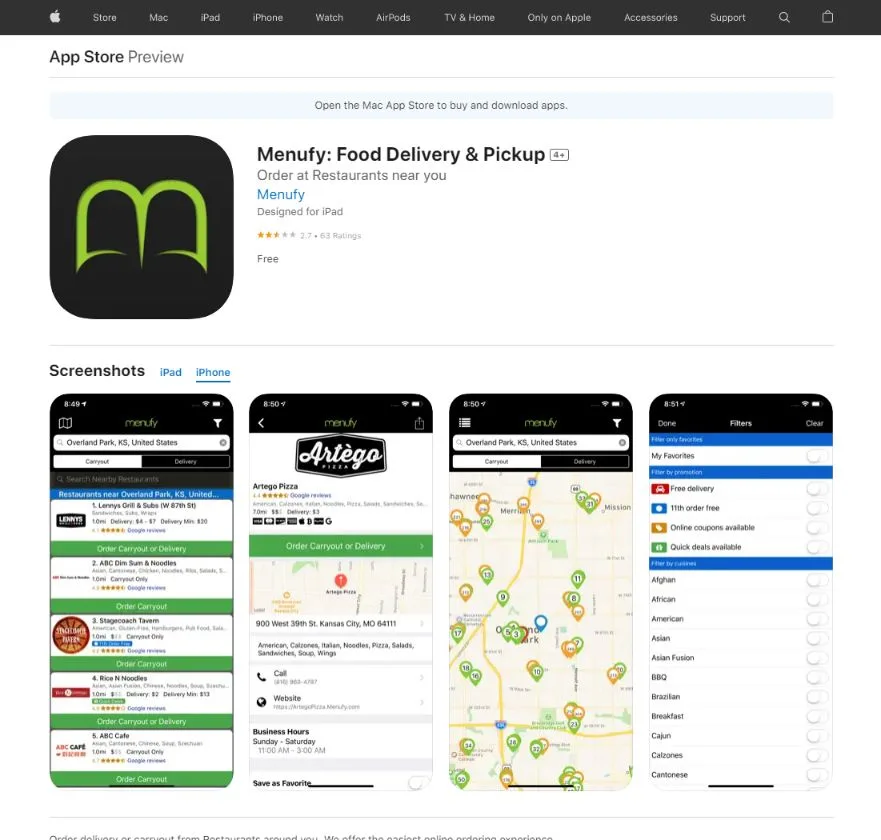 Menufy's mobile app's interface replicates Google Listings to some extent. Restaurants simply input all the needed details (contact details, descriptions, etc.), and everything about them will be live on Menufy. Only eligible members can use this marketplace. The application is home to dozens of local restaurants in the US, and some could be your competition as well. If we rate the technical aspect of the app, it is responsive and available for both Android and iOS devices. But the interface could be improved.
Slice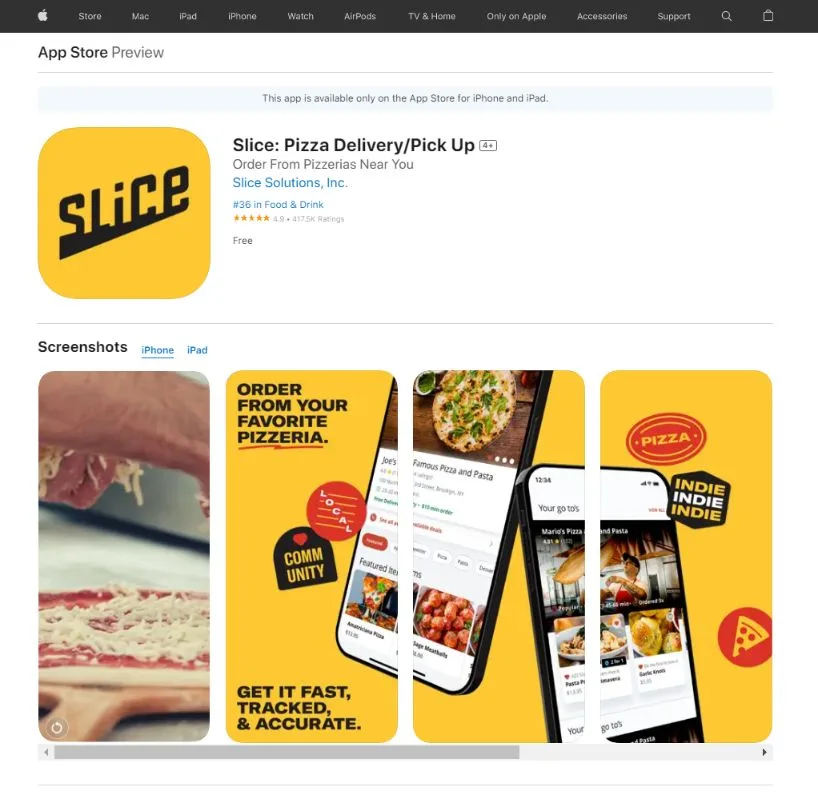 Slice, on the other hand, has built a good-looking mobile app. The application is fully responsive, and its clean interface is quite impressive. For all these reasons, its rating on both the Apple App Store and Google Play Store is also astonishing. However, most of the time, the application can be viewed as just a third-party aggregator. But overall, it also replicates the marketplace model, wherein many pizzerias will be competing with each other.
Menufy vs Slice: User Support 
Menufy
Menufy provides user support in multiple regional languages. Therefore, if you are a pizzeria seeking services from Menufy in your own regional language, you will be greatly influenced by the quick responses from Menufy's customers, who will indeed be friendly in your desired regional language.
Slice
On the contrary, only single-language English is used by Slice representatives. You can reach out to the team via the on-site chat box, or you can simply mail your query to the company.
Conclusion
So finally, you came across a brief comparison between Menufy and Slice. Both platforms are making rounds in the online food ordering industry. Menufy is however an excellent choice for all restaurant types. On the other hand, Slice is popular for pizzerias. The pricing structure of Menufy is a bit affordable, but Slice's pricing is indeed a great value for money. Select what comes first for your business.