. 
Introduction
Online ordering integration is definitely revolutionizing the global food market. It aids in the establishment of improved interaction between the business and the customers online. 
Your restaurant benefits from analytics and valuable data that keep customers connected with you. However, all these benefits are halted if your online storefront is the property of someone. You don't get exposure to crucial analytics and data metrics.  
Setting up a personal storefront online is better than listing your business on a third-party aggregator app. But a considerable investment capital goes into the overall setup. Customization and maintenance add more to the expense ratio.  
This leaves online ordering systems as the best alternative to restaurants that are indeed cost-effective and convenient. Getting an on-demand food delivery website or app is just a few clicks away from the platforms like Menufy and GloriaFood. 
Both companies provide restaurants with an interactive and fully responsive online ordering solution. In this guide, we share a detailed comparison between Menufy vs. GloriaFood so that you can make the right choice.  
Menufy vs. GloriaFood: Business Overview
Menufy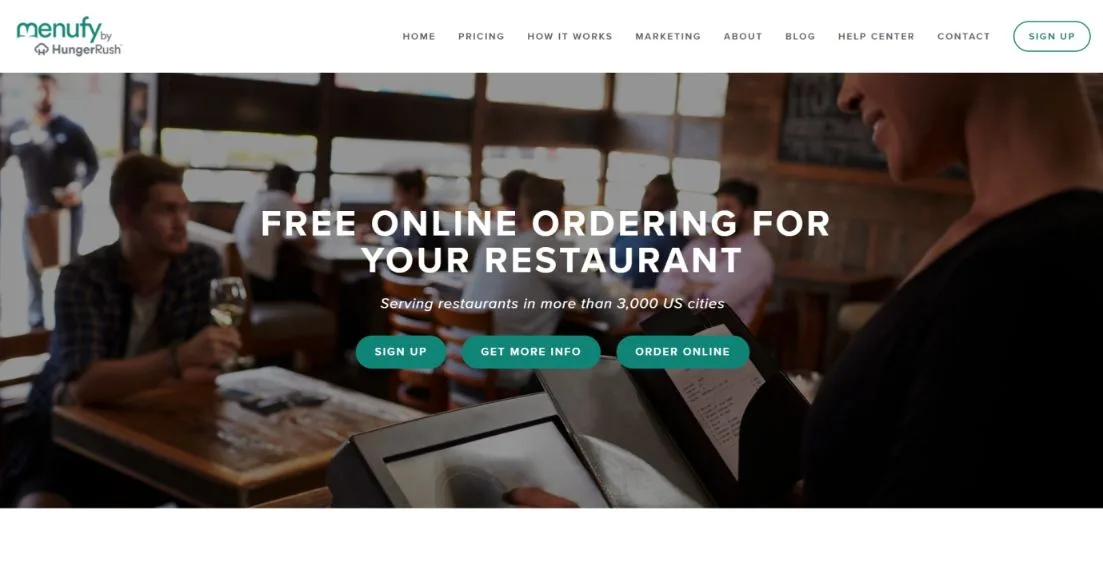 Menufy is one of the fastest-evolving online ordering platforms in the US, where restaurants can discover a pre-built and feature-rich online storefront for themselves. 
And the best thing is restaurants get a fully customized theme for their website. Everything offered by Menufy is personalized to the restaurants. Simply cook food in your kitchen, create an interactive menu, and upload them right on Menufy's built website. 
Compared to third-party aggregators, restaurant operators will have access to the information and customer data. Orders will be received directly on the Menufy POS system, which facilitates smooth monitoring of orders by the restaurant's staff.  
The online ordering platform for restaurants is partly free and partly available at paid plans. Such as, you will obtain a free setup. But other activities such as order placements and marketing are subjected to charges. 
But comparatively, it is a cheaper alternative to take your restaurant online. Besides online portfolio building, the brand assists in food delivery services. 
GloriaFood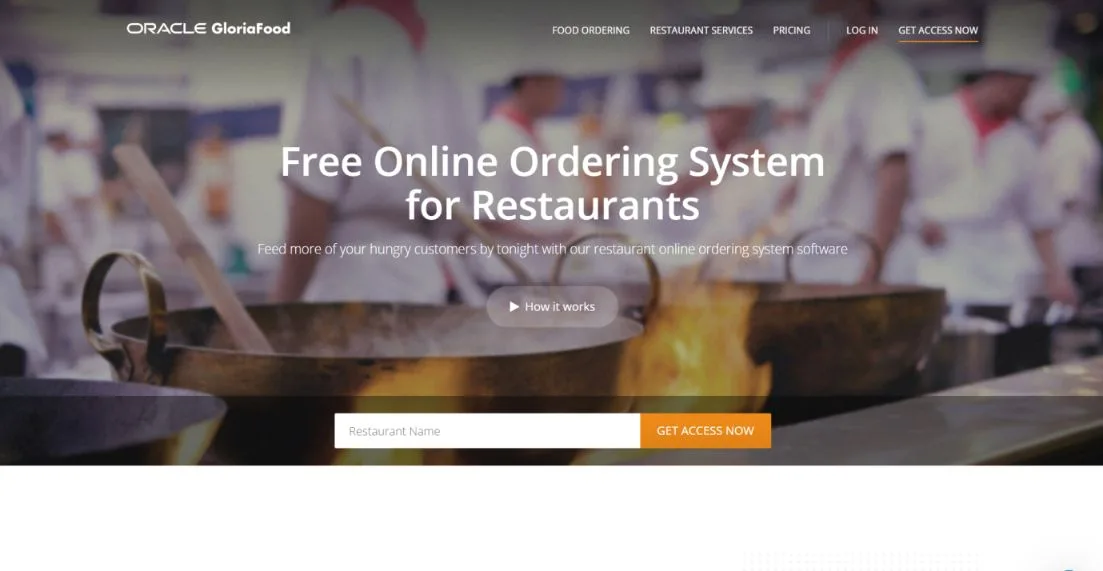 Oracle GloriaFood solutions are split into two categories; the first is "Online Food Ordering Systems," in which restaurants access all digital facilities they want for online brand establishment. The second solution is "Online Food Delivery and Ordering," in which GloriaFood helps you with delivery services.  
With a smooth layout and superb integration, GloriaFood's online ordering systems also feature a mind-blowing UX for customers. The on-demand platform also provides complete online food ordering and delivery systems, which increases the likelihood of customer retention on your digital storefront. 
But compared to Menufy, you don't access any personalized branded benefits from GloriaFood. The online ordering platform has just a single interface for all websites built by GloriaFood.  
So, it could be a little downside to using GloriaFood for restaurants that seek a fully branded website because you don't get it here. Apart from that, you can evenly accept online orders with no issue. 
However, the overall ecosystem of GloriaFood does occupy certain cool features that you may miss in Menufy. Therefore, if you are ready to ignore GloriaFood's website, you will truly appreciate everything offered by the brand besides its digital storefront for the restaurants. 
You will learn more about GloriaFood and Menufy in the extended article. So without wasting a moment, let's get straight to the discussion.
Menufy vs. GloriaFood: How to Get Started?
Menufy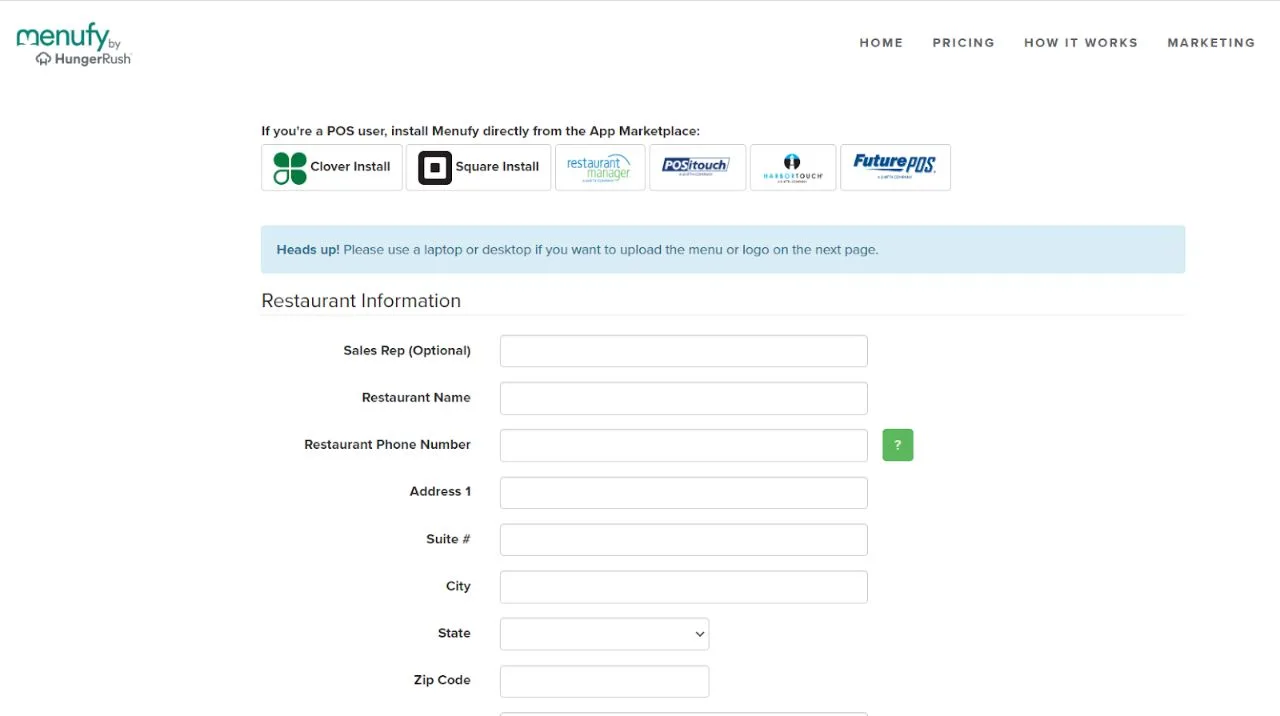 You are advised to stay fully informed about your preferences before applying for Menufy online ordering system. 
On the joining page, the restaurant operator or the applicant will be asked to fill out a lengthy form covering blanks that need to be filled with the right information in order. 
Apart from the basics, the restaurant's name or address, you will be asked to choose commission terms which may put your product margin at risk if not chosen appropriately. It's worth noting that Menufy charges a $1.50 convenience fee from customers. 
With this in mind that such small charges might impact some restaurants' margins on their products, the platform gives them the option to select whether a restaurant will pay this small fee or would like to pass it on to customers. 
Unless the order is larger than a specific quantity, you can tell the system to charge a convenience fee from customers directly. 
Apart from this, restaurants will also make a deposit of $149 if they want to use the Menufy tablet and a $248 deposit extra for the receipt printer. But it will be an optional choice for the restaurant. 
GloriaFood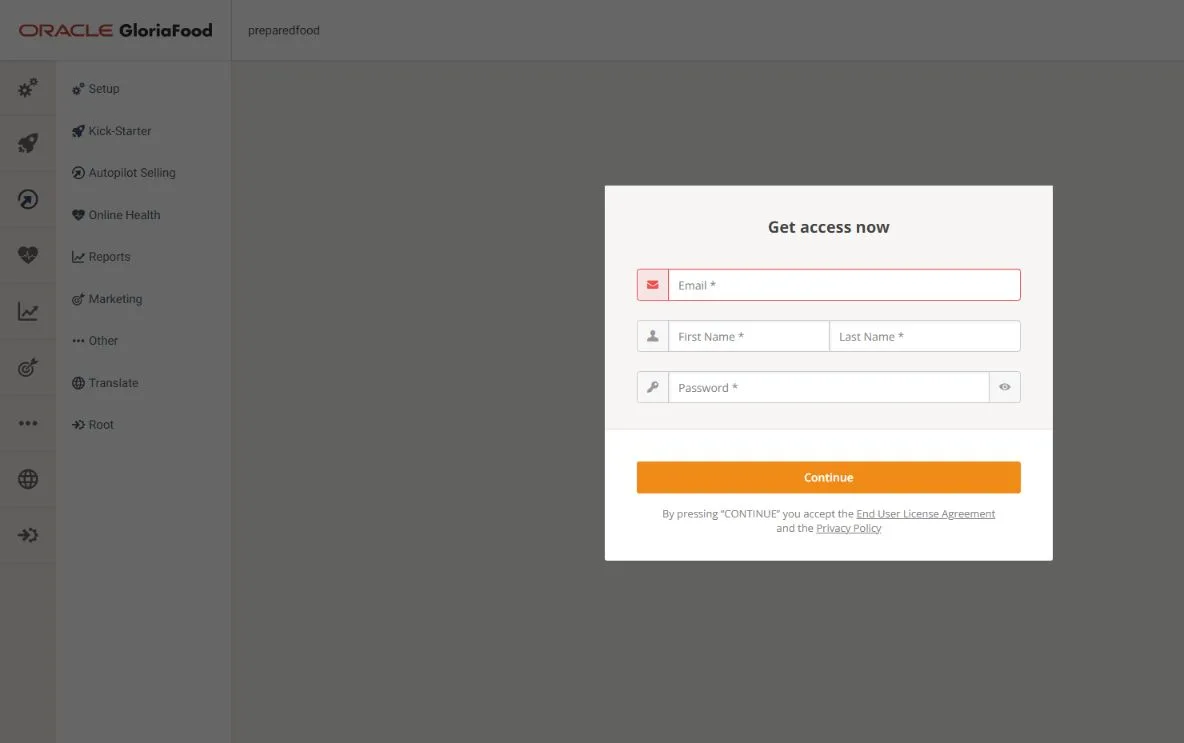 First, you need to clarify whether you are joining GloriaFood just for its online ordering system or if you even want its delivery system to work for you. 
Upon identifying your needs, connect with the brand using the "get access now" button on Oracle GloriaFood's official website. As you proceed, a pop-up will be seen on the interface. Fill in your email address, first name, last name, and password, and hit the "continue" button to initiate the setup process. 
Go back to your Inbox and confirm the message sent by GloriaFood to your Gmail address. Upon successful verification, you will be given some options in the sidebars. 
Start with the basic account setup, and go through all other features provided exclusively to benefit restaurants. 
You can run marketing campaigns directly from this dashboard, autopilot selling, check the online health of your website, and get reports on the latest topics. There's much to explore on the dashboard, so don't forget to go through them.  
Menufy Vs. GloriaFood: Solutions to Restaurants 
Menufy
Here's a breakdown of solutions provided by Menufy to restaurants. If you are interested in using Menufy, this is how you will be benefited from the online ordering platform – 
Free Online Ordering Website
One of the best solutions in the Menufy basket, which can never fail to entice restaurants, is its free online ordering website. You can use the website as your digital storefront, where you will be able to receive all of your orders.  
Menufy Listing
Restaurants can list themselves on the Menufy marketplace, which is indeed a dedicated mobile app by Menufy. All you need is to become an eligible member of Menufy and get direct access to the Menufy listing platform, where many other restaurants are already available in a queue. 
Free Order Notifications
Menufy users even obtain free order notifications right on their system. So make sure you aren't too late in fulfilling orders.  
Menufy Manager System
Using Menufy's point of sales, you can readily manage all business-related activities through a single interface. You can effectively manage all incoming orders and can even manage offers or rewards for customers.  
Marketing Offers
Apart from the basic setup, marketing support is also provided. The platform utilizes some unique marketing techniques to pull customers from third-party platforms to your Menufy-built website. 
GloriaFood
Below is a detailed breakdown of solutions provided by GloriaFood to the online restaurants – 
Online Ordering Website
GloriaFood online ordering website is super responsive and can be accessed for free. However, the website features just a single theme, but overall features and functions are truly amazing.  
Facebook smart links 
Facebook smart links are an added feature included by GloriaFood in its set of solutions. It is a special integration that lets a restaurant receive orders from its Facebook page. How you will benefit from this smart solution is better explained by GloriaFood once you join them. 
Mobile app for Food Clients 
Mobile Application is also a great solution served by a brand to restaurants who don't want to use extensive capital on application building and maintenance processes. Like Menufy, the Application is also a marketplace where restaurants benefit from a shared market by listing their businesses alongside other restaurants on the app.  
Flexible Order Confirmation
You can receive and confirm orders from smartphones in addition to desktop or POS systems. If you are among those restaurant operators who are always on the go, the solution is particularly designed for you.  
Table Reservation  
Apart from online ordering, a table reservation feature is also provided on the GloriaFood website and app. If your restaurant business largely comes from dine-in facilities, this feature is exclusively designed for you. 
Dedicated Restaurant Delivery Software 
To help restaurants get a deep clarity of the delivery area within which they can promise super-fast delivery to customers, dedicated restaurant delivery software is also provided. You can use the software to address the limitations and benefits of using GloriaFood.  
Free Adwords Generator
Keywords are the ultimate answer to push a website up in the search results. To help restaurants identify potential keywords which could be used to attract more organic results, a free AdWords generator is also provided by the company.  
Menufy vs. GloriaFood: Comparing The Websites
Menufy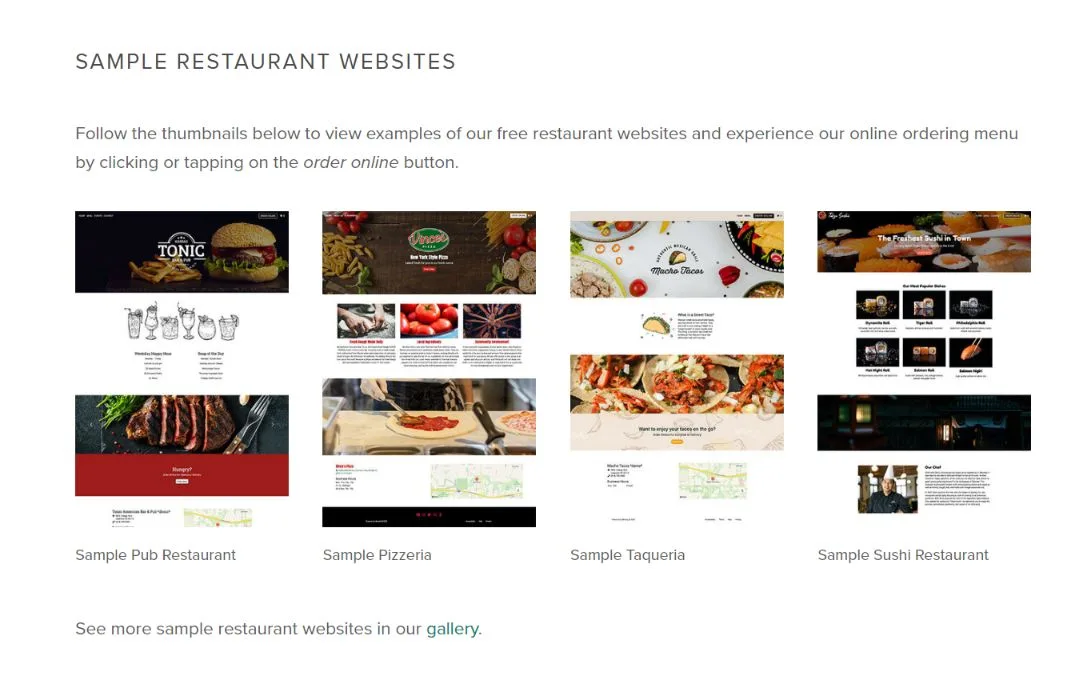 Menufy's website is custom-built to match the needs of restaurants differently. Aspiring restaurant owners can choose the best business theme for their online portfolio. 
However, you don't receive any feature-rich navigation or advanced layout here. But all basic information, such as your menu, restaurant's address, and contact details, is made readily accessible to the customers. 
Upon readily ordering their favorite food online, customers can make payments for their orders. And details of their orders can be watched in real-time live on the screen. The website brings enhanced transparency for both customers as well as restaurants. 
However, the website has no guarantee to rank at the top of the search results. But in case you want, you can purchase premium services from the brand. 
The free website setup only eliminates the interaction gap between you and your customers. It is just a destination where customers from other platforms randomly or directly would approach and place an order. 
GloriaFood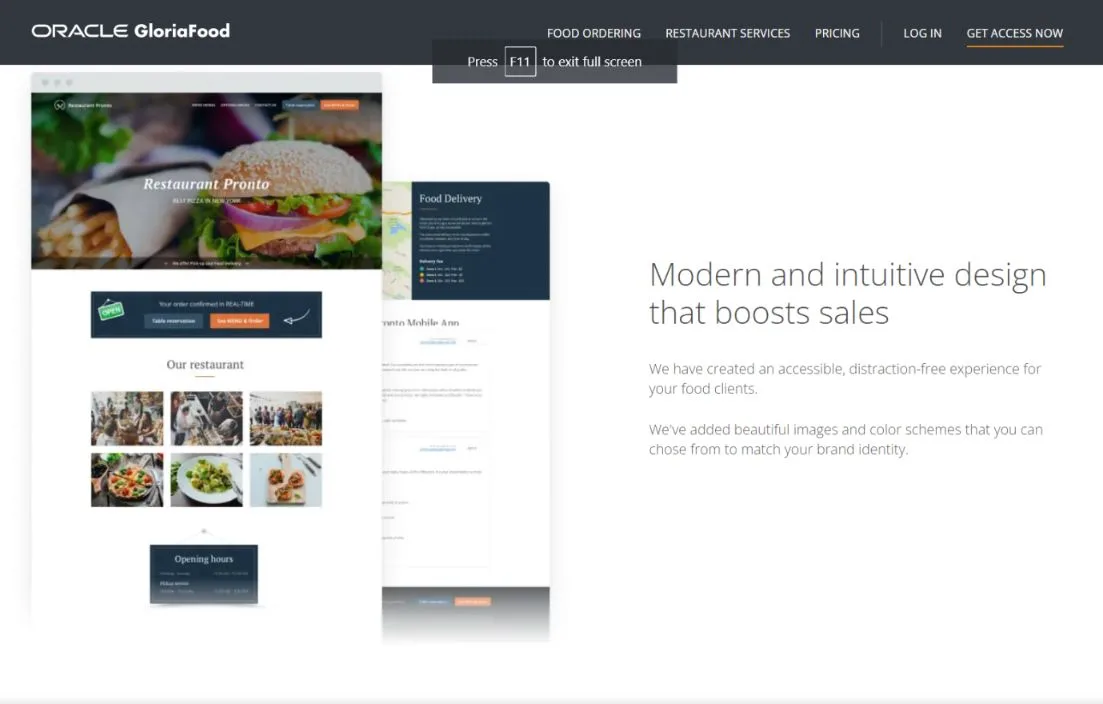 GloriaFood's website is well-built and professional-looking. The site is well known for its modern, intuitive design that keeps customers' persona and their buying habits in mind. Without any fuzz, customers on GloriaFood's built online ordering system will be exploring their favorite menu and will be placing an order for their products. 
The website even features a table reservation option and an advanced order booking system. With its use, the customers can readily book their table to enjoy the dine-in culture of your restaurant. However, the option isn't mandatory.  
You can remove this feature from the website in case you don't want to use it. In addition to the menu types, you can even specifically describe the opening hours and closing hours of your restaurant so that customers can understand the exact time of visiting your restaurant.  
QR code scan for menu & order is also available. Altogether a wonderful user experience is served by GloriaFood. 
Menufy vs. GloriaFood: Comparing the Mobile Application 
Menufy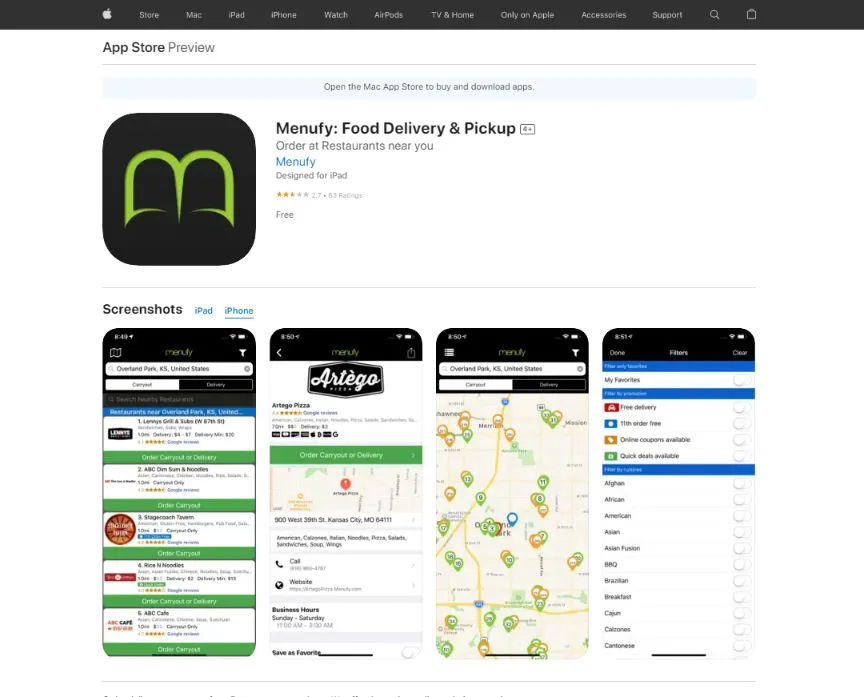 Mobile applications are one of the best parts of any online ordering platform. Modern eaters are more smartphone users. They love ordering food online from an app because all their order details and other relevant information are readily available on the app. 
That's why Menufy offers restaurants a chance to get exposed to the giant user base through its well-built mobile app. Menufy app is a marketplace of restaurants where they can list their businesses and benefit from the shared collaboration of restaurants online. 
The Application is responsive and features a map for smooth location access. The individual page of restaurants replicates the UI of Google listing, which delivers familiar navigation to customers. Both Android and iOS users can place an order through the Menufy app. 
However, in terms of attractiveness and responsiveness, the app still seeks much attention. Despite that, the Menufy app is garnering positive feedback.  
GloriaFood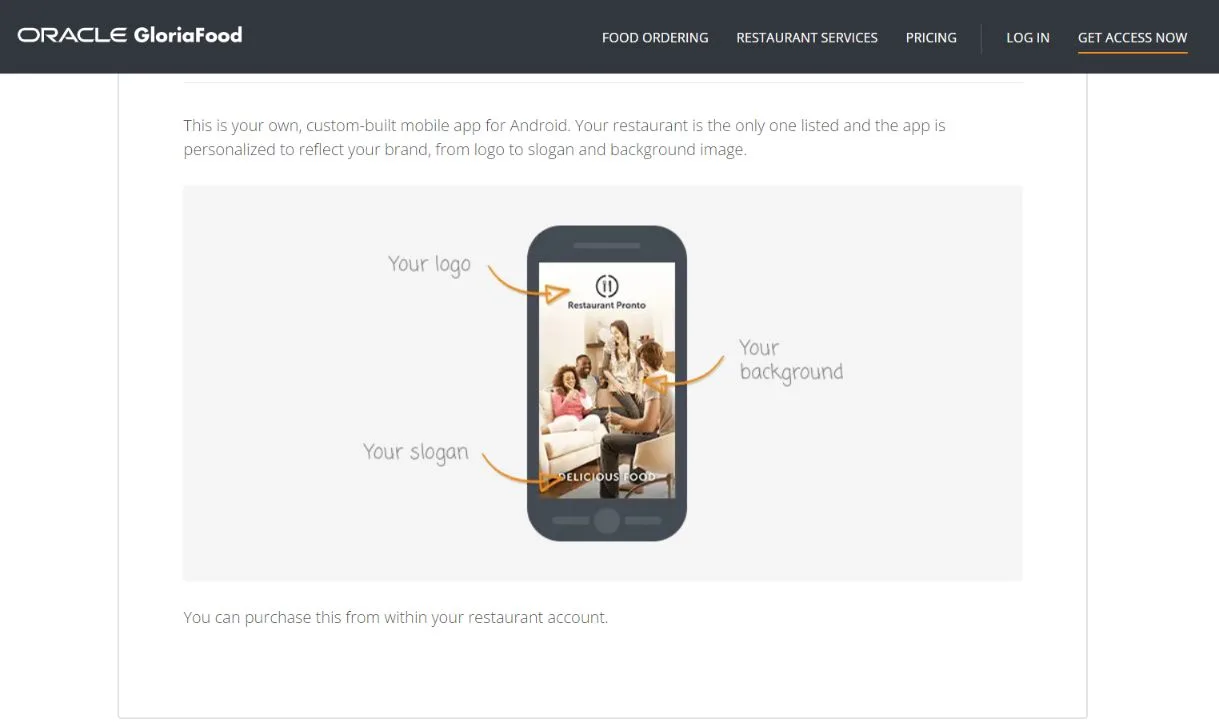 On the other side, GloriaFood offers two mobile applications. The first app is Food Booking App (a free service), best if we call it a marketplace like Menufy Application. 
The app has multiple restaurants listed on its marketplace where prospective customers have higher chances of placing an order for tasty food from any random restaurant or a specific one.  
The second Application is recommended for those restaurants who seek a branded mobile app. But it comes at certain charges. The custom-built mobile app allows you to put in your logo and your slogan and use any personal background profile for the app.
Menu customization as per the need of the restaurant is also available. But the only drawback of the app is that only Android users are targeted. If your restaurant's user base has more Apple users, GloriaFood mobile app might fail to live up to your expectations. 
Menufy vs. GloriaFood: Marketing & Promotional Benefits
Menufy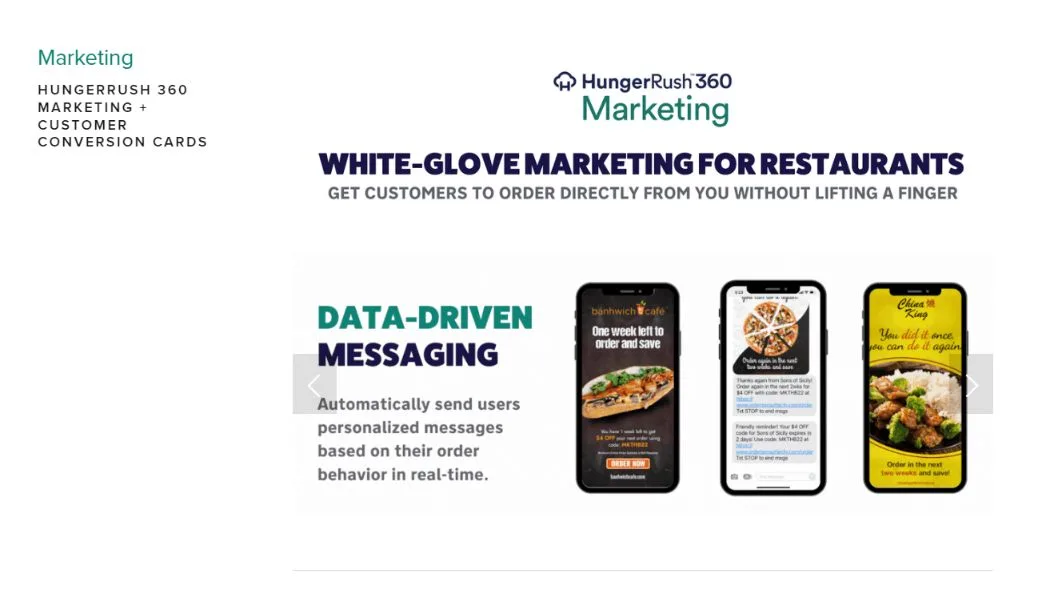 Marketing & promotion benefits by Menufy are also remarkable.
Customer Conversion Cards
Normally, pulling initial customers in the business is tough when you are new in the food market. Especially on free online ordering systems, the issue is a new challenge. But Menufy smartly tackles this challenge with customer conversion cards. All you need to do is simply put these cards in the customer's basket on third-party platforms and get them right on to the Menufy built website of your restaurant. 
The company will design branded postcards that not just convert customers into loyal buyers of your restaurant; post-conversion, you can even track their activities online.  
Automated Text & Email Marketing  
Your restaurant growth is even empowered by automated email & text marketing. As a customer places an order, a text or email is sent directly to their system. It aids in improved interaction and trust-building of customers on your owned restaurant website. In addition to standard text and emails, special advertising is also possible with these automated restaurant marketing solutions. 
GloriaFood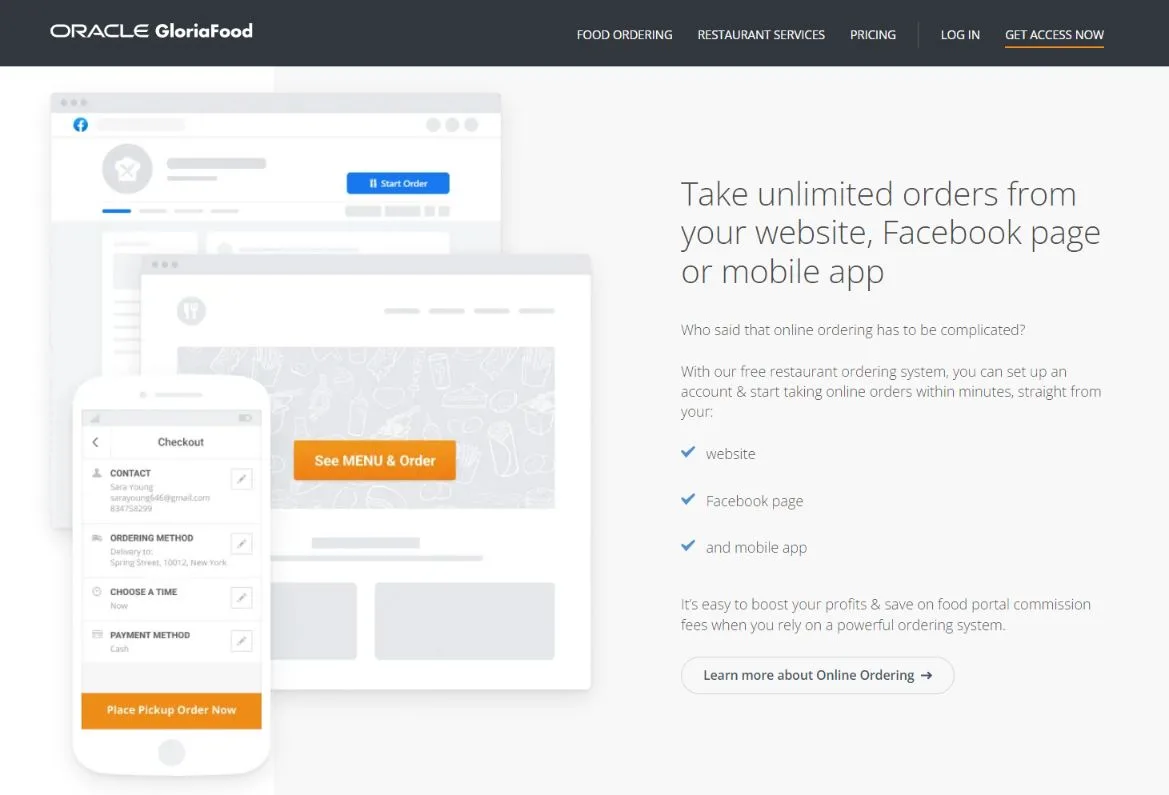 Facebook Ordering
Oracle-powered GloriaFood believes in the potential of a Facebook page. With almost every person around the world creating a presence on the social media platform, it comes out as an ultimate destination to attract your first prospective customers online. If your restaurant is brand new, Facebook is undoubtedly the best lead generation magnet. You can also take unlimited orders from the Facebook website and mobile app on the go in which GloriaFood helps you a lot. The platform offers a special Facebook link upon pasting on the Facebook page, which converts the audience into customers for your restaurant online. 
Free Adwords Generator
Free AdWords generator is another interesting tool that keeps you connected with potential growth patterns. This tool helps you identify those hidden keywords that are searched daily by your customers in the local area where your restaurant is trying hard to grow online.  
Promotions Engine
It is a built-in restaurant promotion module accessible for free in every online ordering system for restaurants. These promotion engines replicate paid campaigns like banner ads and other pop-up ads that make the whole interface interactive. 
Menufy vs. GloriaFood: Order Confirmation
Menufy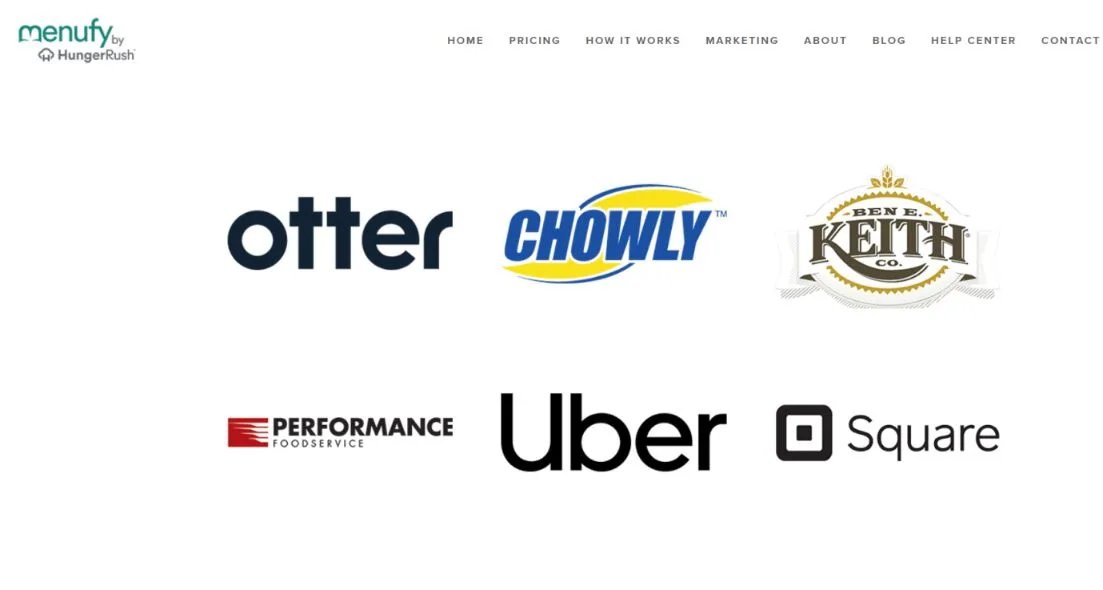 A minor delay or error in information is enough to contribute to a big business loss or a permanent loss of loyal customers. Given that, Menufy offers seamless connectivity between its online ordering systems and POS systems; simultaneously the entire journey, from order placement to order execution, is streamlined. 
The brand partners with multiple POS systems. So if you have an existing POS or intend to use one of a particular brand but have no idea whether Menufy supports it or not, connect with the support team for clarifications on such topics.  
GloriaFood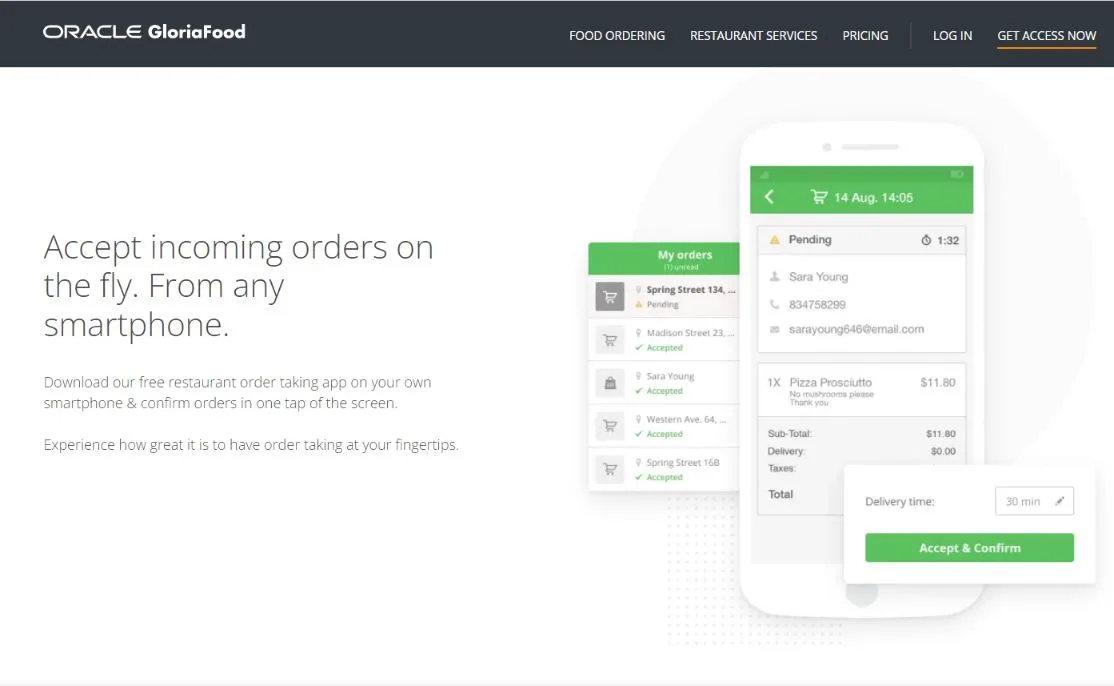 GloriaFood, on the contrary, offers a truly impressive tracking system. Restaurants can track and manage their orders directly through the website or app. Moreover, the POS integration facility is also supported by Oracle. You can even purchase POS systems from both platforms in case you don't find any reliable platform to shop for these essential things for your food business.  
Menufy vs. GloriaFood: The Pricing
Menufy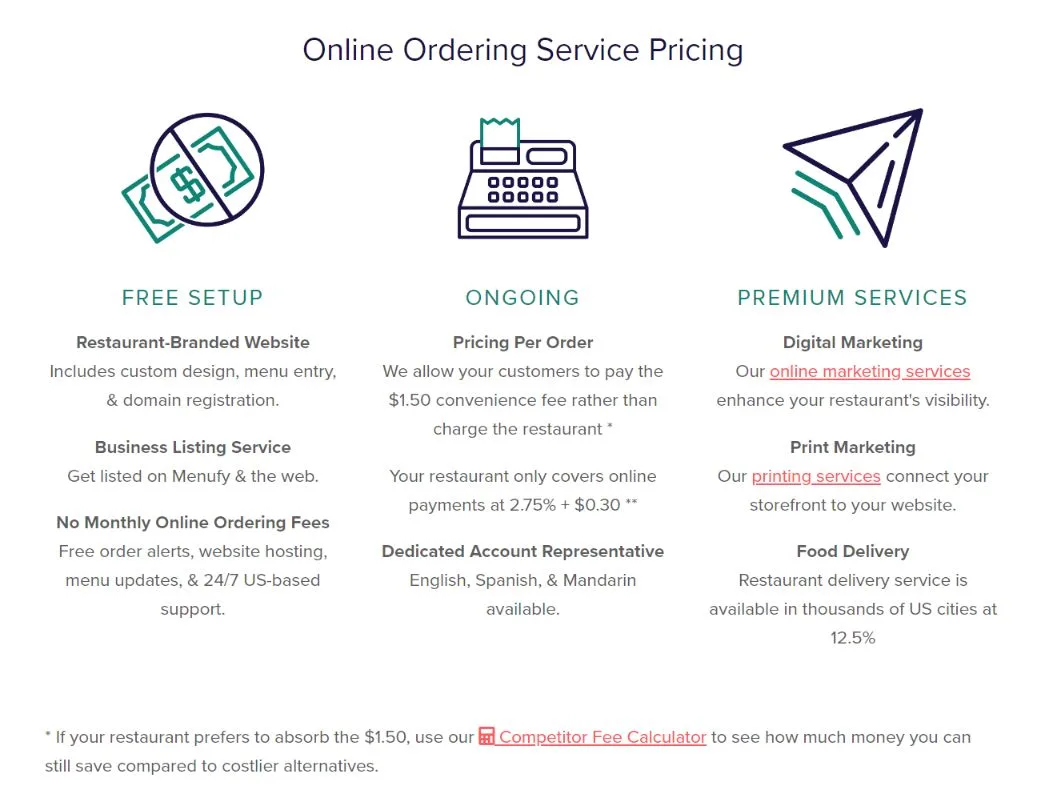 The pricing structure for its services is well described by Menufy for restaurants which is truly impressive. To summarize it better, the platform offers free setup facilities for restaurant-branded websites. 
You can even access business listing services and free order alerts with free hosting and menu updates. But on every sale, you will be paying a $1.50 convenience fee; that's also your choice. You can make customers pay this fee, or you can bear this charge in case it doesn't impact your profitability. 
Apart from that, your online portfolio will be running 24×7 hours without any charges. But in case you want to attract customers solely online, premium marketing services are also available. For example – you can benefit from digital marketing and print marketing. 
GloriaFood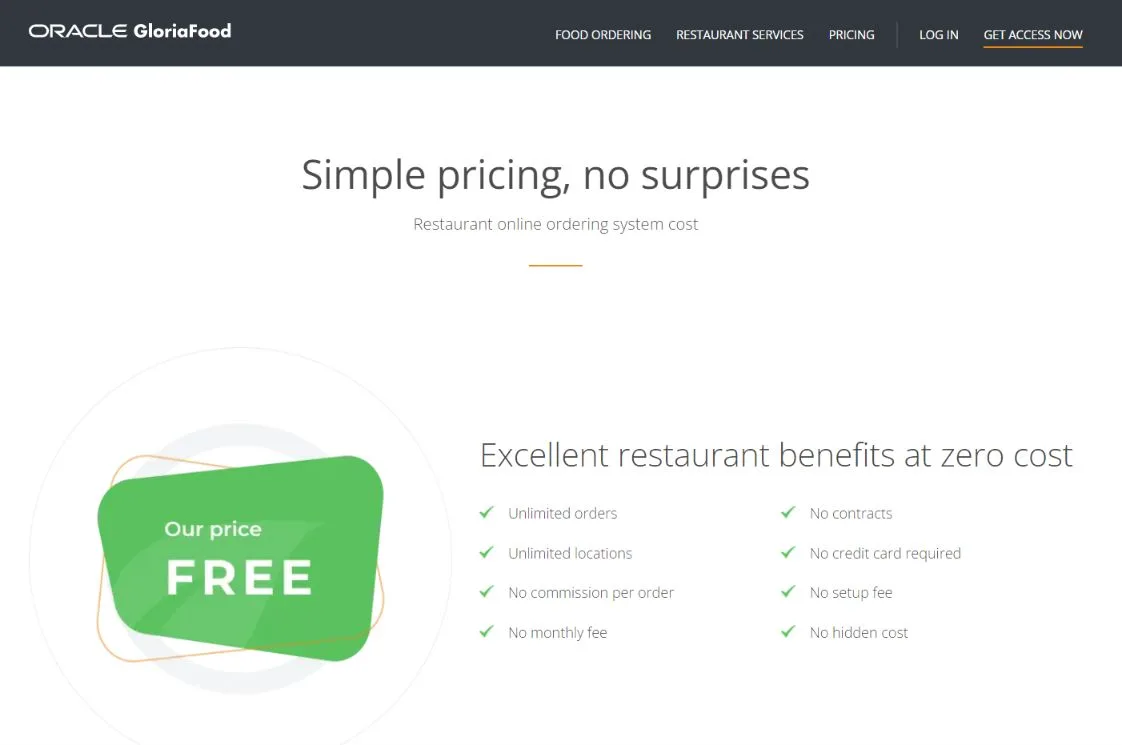 The overall pricing structure designed by GloriaFood for its services is reasonable. The free plan of the online ordering system covers free website ordering widgets, free mobile ordering app, free table reservation widgets, free orders with Facebook smart links, real-time ordering, and many other things offered for free. Third-party integration, end-of-day reports, and actionable tips, everything is available for free. Altogether, a great value for money is served to the restaurants. But optional paid services must be noted as well. 
Optional Paid Services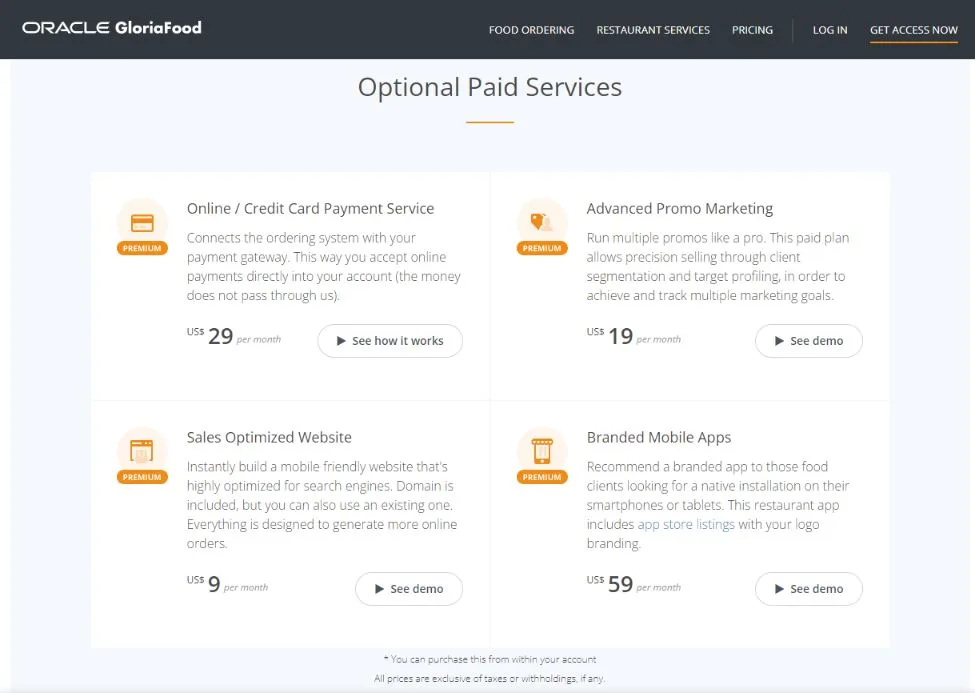 As you can see in the visual above, Oracle GloriaFood charges $29 per month for online/credit card payment services. Advanced promo marketing at $19 per month is also offered to the restaurant. 
Apart from that, if you want your website to attract organic sales online from within your local area, you can invest $9 per month to have a sales-optimized website. If you are truly impressed by GloriaFood's services, you can get a branded mobile app at $59 per month. 
Conclusion
We have finally come across an ultimate decision. The debate on Menufy vs. GloriaFood has got us some noteworthy points on both online ordering platforms. Both platforms offer somewhat similar benefits, but GloriaFood offers more concrete solutions. However, Menufy solutions are also good enough and can fulfill all those business goals of a typical restaurant that too at affordable pricing. Menufy charges just $1.5 convenience for its services that are optional. However, marketing services are subjected to some charges on both Menufy and GloriaFood platforms, so choose wisely.